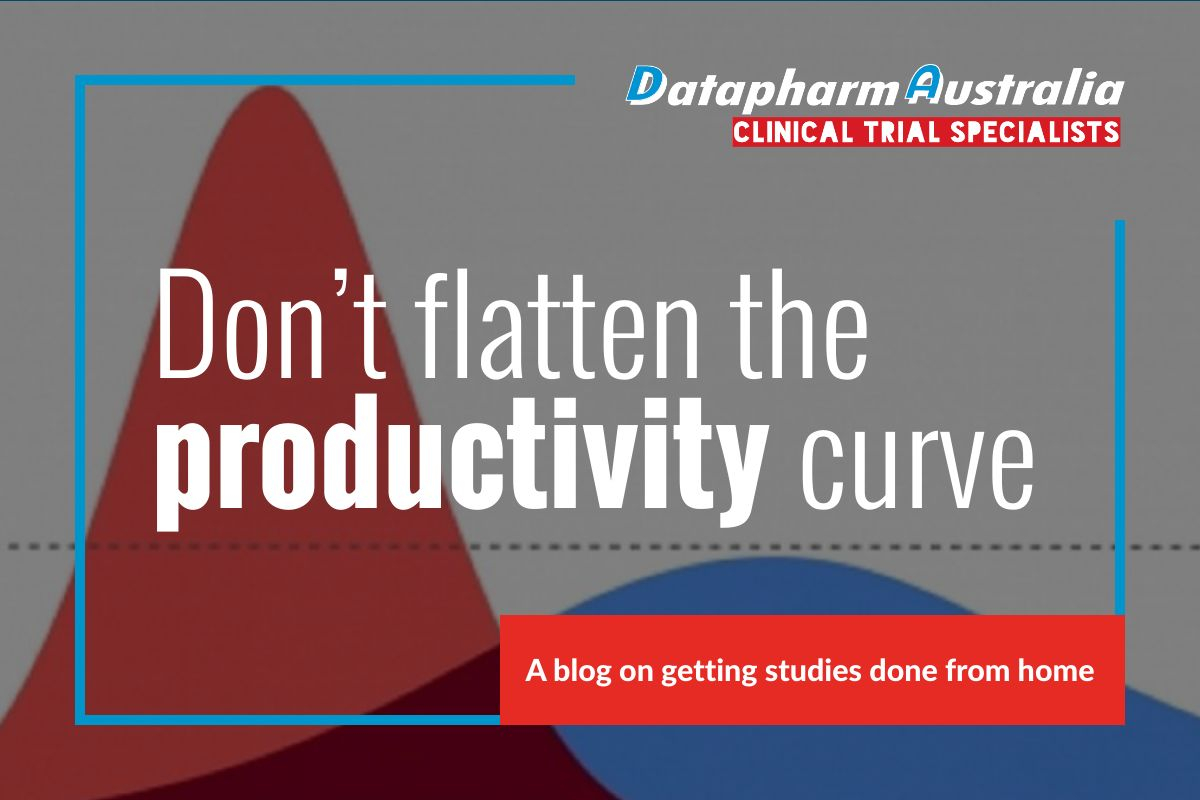 Don't flatten the (productivity) curve: A blog on getting studies done from home
Currently, there's an overload of (sometimes conflicting) information regarding how best to carry out clinical trials while working from home. Furthermore, as we cannot be certain when/if conditions will eventually shift back to a more physical environment, we should be preparing ourselves for effective remote work. While information coming from regulatory bodies such as the FDA, and EMA are welcome, it can be hard to distill this into practical steps that Trial Sites can follow.
Due to this, we present to you our tried and tested steps that focus on staying safe at home while ensuring your trials are a success. This will involve a remote work adaptation of all relevant study and administrative tasks. While this can be a challenge, there are a number of systems that are either designed specifically for this purpose, or can be adapted to fit.

Running Clinical Trials
With current travel restrictions and limits on gatherings of people, participant recruitment will become an even bigger challenge than it was previously. The shift towards online participant recruitment will be key here. More traditional services like newspapers, radio, and television will tend to be used less frequently. In comparison, usage of the internet has significantly risen, and you will likely find a wider and more attentive audience than before – assuming you can capture your audience's attention.
We have already spoken at length regarding the benefits of recruiting online and how to set up your own campaigns. To recap, the combination of a larger audience, more flexible campaigns, and the ability to target people with certain demographic characteristics results in an incredibly powerful tool if utilised properly. With this, however, there is a steeper learning curve and additional preparation to ensure a successful campaign. There exist many resources (including our own course) which detail the exact steps required to run a successful and compliant "patient recruitment" campaign.
One must also understand the psychological aspects of recruiting for clinical trials. Now more than ever, there are several barriers to entry which you will need to address. Individuals will undoubtedly be more conservative when it comes to participation – perhaps they hold erroneous beliefs about getting sick or vulnerable due to a clinical trial, and simply want to preserve their health. They might also feel like they have enough to worry about with working from home, and you will need to communicate time and effort requirements during study participation. GPs themselves have noted a dramatic drop in consultations, which raises some concern as to how reducing these checkups can affect general patient wellbeing.
People are also less willing to travel to a clinical trial site in person, so this means participation in trials can be contingent on remote gathering of data. The method you choose will naturally depend on the study, with smaller ones likely completable through phone calls or online forms. A gentle transition could be achieved here using survey platforms such as Google Forms or SurveyMonkey, once they have been assessed for acceptability. Larger studies may require a combination of several technologies. Electronic data capture (EDC) systems offer robust and compliant ways to organise and store large sets of data. Combine this with electronic patient reported outcome (ePRO) forms, which are often enabled in apps that can be completed on patients' phones allowing participants themselves to enter diary, compliance, or self-assessed data.

Managing your Trial Site
Following on from the previous point, digitising your data collection methods also has advantages when working collaboratively with multiple staff and monitors. Everyone will need to have access to the most recent data, which means storing it in a central location. The same goes for other files and documents associated with your Trial Site. Google Drive has a robust permissions system and allows for real-time editing of word documents and spreadsheets. But other alternatives also exist such as OneDrive, Dropbox, or SecureDocs – it is best to try out a few options and assess whether these systems are appropriate before making a decision. Be sure to consult your own internal SOPs as well as ICH GCP guidance and your Sponsor if applicable. You will also want to make sure your platform of choice integrates well with your existing workflow.
Of course, being at the coalface of clinical trials, remote communication will be an essential part of managing your Trial Site on a day-to-day basis. Email and text-based chat can be helpful for simple tasks and will often suffice when dealing with participants, supplemented with phone calls. However, consider video conferencing platforms such as Google Hangouts or Skype with Site Staff, Monitors, Sponsors, etc. where complex ideas need to be discussed or multiple parties are involved. Ensure you keep meeting minutes or record your calls, and distribute them as needed.
Finally, working from home is the perfect opportunity to skill up and learn about new technologies to help you through this transitional period and into the future. Potentially, working from home can offer a more focused environment where you will be able to concentrate on taking online courses. If your clinical trial work is also slowing down due to the delays caused by this situation, online training is also a great way to stay sharp and fill in any lulls in work. Both ARCS and PRAXIS offer many courses related to clinical trials, and we would be remiss not to mention our own online patient recruitment course, which we've just launched!
In times like these, you need to use every tool at your disposal to ensure you are able to complete your studies. Learn how you can use online study promotion and patient recruitment to your advantage to supplement clinical trial recruitment rates, and then manage participants as they express interest in your studies. Our online course will take you through planning and implementation of such a campaign with hours of video tutorials, downloadable examples, and detailed instructions. Using the unique experiences of clinical trials industry insiders, the course also discusses what you must consider to ensure that you remain compliant with ICH GCP, protecting all parties' data and rights. Sign up now and get started on what could be the most essential course you take this year!
Find out more about how we support clinical trial Sponsors with patient recruitment services – get in touch today!
Subscribe to Get More Productivity Tips